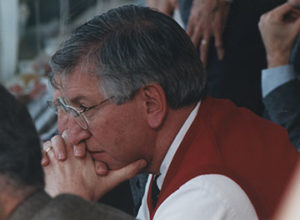 Myles Brand passed away on September 16, 2009, after a long fight with cancer, but his legacy lives on in his words and works. Brand grew and strengthened Indiana University and led the NCAA through a pivotal time of reform, navigating numerous challenges while remaining steadfastly loyal to his core values. He advocated for equity, defended the rights of student-athletes, and sparked a renewed commitment to academics in college sports.
In the words of Richard Lapchick, Director of The Institute for Diversity and Ethics in Sport, "Like many others, I lost a hero and a friend. Brand was a philosopher who will be remembered for his eloquence and for his fight for justice in sport, especially regarding graduation rates, gender equity, and diversity and inclusion."
After his death, Brand was honored with the publication of the NCAA Tribute Book as well as a live telecast CBS Sports Tribute hosted by Jim Nantz and featuring soprano Sylvia McNair, rock legend John Mellencamp, and poet Garrett Hongo. Indiana University created an endowed faculty chair in cancer research in his memory, and both IU and the NCAA named buildings to commemorate his life.
For his advocacy efforts, Brand was posthumously awarded the Black Coaches and Administrators Association (BCA) Administrator of the Year Award, which was then renamed in his honor. He was also the first individual to be recognized posthumously by the NCAA Minority Opportunities and Interests Committee as a Champion of Diversity and Inclusion.
Today, his work still shapes the world of intercollegiate athletics, especially regarding the academic success of student-athletes. In 2009, before his death, Brand was pleased to see the success of his academic reform initiative, reaching their initial goal of an 80% graduation rate. In 2020, nearly a decade later, the DI Graduation Success Rate for student-athletes reached 90%—a number Brand would have been truly proud to see.
"Myles Brand Honored Posthumously as Visionary for Inclusion," by Amy Winner Schwarb
August 15, 2018
"Indiana University Naming of Myles Brand Hall," by Ken Bikoff
September 25, 2019