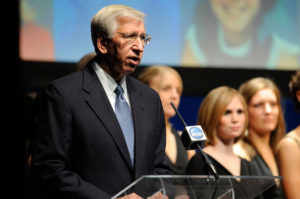 The video archive includes footage from some of Myles Brand's public speaking appearances, press conferences, live testimonies, and interviews as well as a few televised episodes of his extended series Mondays with Myles. The archive also features the NCAA Tribute televised live on CBS Sports to honor Brand after his death and the Grand Opening Celebration for the NCAA building named in his honor—both reproduced with permission from the Association.
Some of these videos are available to view in their entirety on this website. Others are linked with permission from the C-SPAN Video Library.
WISH-TV Broadcast of Mondays with Myles – "State of the Association" from Washington, D.C.
January 12, 2009
WISH-TV Broadcast of Mondays with Myles – "Minorities in Coaching"
January 19, 2009
WISH-TV Broadcast of Mondays with Myles – "Academic Reform"
February 2, 2009
WISH-TV Broadcast of Mondays with Myles – "The Economy"
March 2, 2009
WISH-TV Broadcast of Mondays with Myles – "Myles Says Thanks"
March 16, 2009
WISH-TV Broadcast of Mondays with Myles – "2009 Final Four in Detroit"
March 30, 2009
WISH-TV Broadcast of Mondays with Myles and Friends – '"Commercialism"
April 20, 2009
NCAA Tribute at Conseco Fieldhouse, Indianapolis, IN, hosted by Jim Nantz with soprano Sylvia McNair, poet Garrett Hongo, and Indiana rock legend John Mellencamp
October 28, 2009
NCAA Myles Brand Building Grand Opening Celebration
June 19, 2012