Engaged Leadership in Higher Education: 1989 – 2002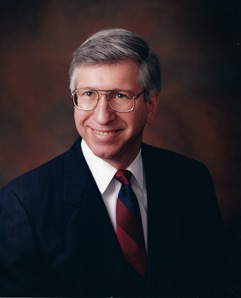 As he took on greater leadership roles, Myles Brand moved away from his studies in action theory to focus on a different application of philosophy: education. Brand's philosophy of higher education emphasized the moral imperative of teaching students, the value of college sports, and the importance of presidential leadership.
Brand became President of the University of Oregon in 1989, when the university was facing significant financial hardship. During his tenure there, he made tough decisions and budget cuts while developing new funding strategies to create lasting financial stability for the institution. By the time he left in 1994, Brand had helped the university recover financially, regain the enrollment they lost, and strengthen their academic programs.
In 1994, Brand moved back to the Midwest and became the President of Indiana University, where he served until December 31, 2002. Under his leadership, Indiana University experienced a period of significant growth, including record-high enrollment numbers, an increase in research grants and contracts, and new academic initiatives that solidified IU as a leading public university. Brand founded Indiana University's innovative School of Informatics in 2000—the first school of its kind in the U.S.
During this time, Brand faced one of the most controversial decisions of his career when Coach Bob Knight was accused of a pattern of verbal and physical abuse against students and staff. In response, Brand issued a zero-tolerance policy that outlined the university's expectations, but Coach Knight eventually violated the sanctions he had agreed to follow. On September 10, 2000, Brand made the difficult but necessary choice to relieve Knight of his duties.
Then, Brand made history by promoting Assistant Coach Mike Davis, making him Indiana University's first African American Head Basketball Coach. Davis' first year was an impressive run that took the Hoosier team all the way to the NCAA 2002 Final Four Championship.
Earlier that year, in January 2001, Brand also delivered his first address to the National Press Club, where he introduced his plan for academic reform in intercollegiate sports: "Academics First." This plan became the foundation for his work at the NCAA and became one of the most impactful speeches of his career.
"Academics First: Reforming Intercollegiate Athletics," delivered to National Press Club, Washington, D.C.
January 23, 2001
"Academics First: Rejuvenating Athletics Reform," Association of Governing Boards of Universities and Colleges (AGB) Trusteeship, 9:2, pp.18-22
January 24, 2001
"The ENGAGED President: Changing Times, Unchanging Principles," The Presidency, 5:3, pp. 27-30
September 1, 2002